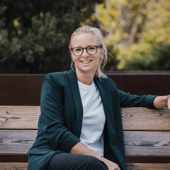 Karolina Ling-Vannerus
CEO & Founder
Specialties: Problem solver, sees what others don't, positive, engaged, honest, fun. Makes things happen. Challenges status quo. I am a catalyst. And the Fika-master.

I engage to 110%. I am driven by continuous improvements and development, questioning if today's answers and ways will be valid tomorrow, and what tomorrow may look like. Taking on any new "impossible" challenge together with people with diverse skills. I am hard working, fearless, always curious and will ask all the questions, to truly understand the root of things, trying to see patterns or solutions that others might be missing. Values driven. I am inclusive and appreciate our differences. I invest a lot in development and coaching. Loyal. I tell it like it is.
I ensure we all have fun at work.